Power Chucks:
EB Manufacturing provides a wide range of unique Power Chucks for any applications required.
Self-Centering:

6''– 18'' Diameter
Available in 2-Jaw, 3-Jaw, 6-Jaw, & 2/3-Jaw
EB Manufacturing Self-Centering Chucks with cam lever gripping mechanism provides accurate gripping and centering of workpiece.
Compensating:
6''-18'' diameter
Available In 2-Jaw or 3-Jaw
EB Manufacturing Compensating Chucks provides 1/8" compensation per jaw, for holding irregular shaped workpieces between centers.
Custom:
6"-18" Diameter
EB Manufacturing designs and built to suit non standard applications per customer request.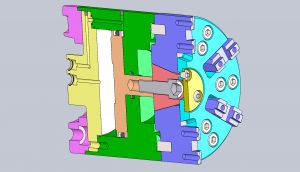 Draw Down:
6"-18" Diameter
Available In 2-Jaw & 3-Jaw
EB Manufacturing Draw Down Chucks are available in two types: wedge and lever operated. The wedge type simultaneously grips and seats the workpiece. The lever type first centers and then seats the workpiece and finally applies full grip force.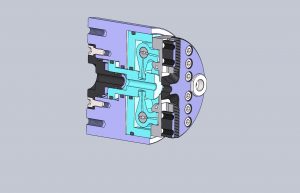 Counter-Centrifugal:
6"-18" Diameter
Available In 2-Jaw & 3-Jaw
EB Manufacturing Counter Centrifugal Chucks uses a system to counter balance centrifugal force loss of the top jaws at higher speeds and secure the workpiece.
Call us today to discover more information on our power chucks and self-centering power chucks. Our company serves clients nationwide with personalized products for production.